Period & Listed Building Surveyors
South Molton's trusted old-building specialists
Call on 01271 525 526 or Freephone 0800 880 6024
Here at South Molton Chartered Surveyors, our core surveying focus is on clients buying property - for personal or investment reasons. Not all property is alike, however, and some factors make surveying a building considerably more difficult. Foremost among these is the matter of age.
All building materials decay with age — some faster than others — so structures built prior to 1900 are typically more susceptible to building defects such as structural movement, damp ingress, timber rot and many more (and often hard to spot) problems.
Not only this, but building standards have come a long way since the construction of many period buildings. These could often stand on shallow or non-existant foundations. Period buildings can be a complex harbourer of serious issues.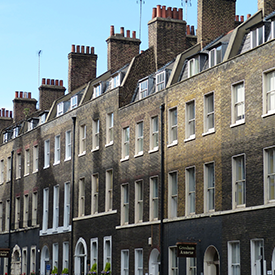 Any person thinking about purchasing a listed or period building should not do so without the advice of a chartered surveyor experienced with this type of asset. Proceeding without professional advice could result in tens of thousands of pounds worth of unexpected repair bills.
We provide our advice from a specialist chartered building surveyor who has operated in the property industry for over 17 years - Lee Gallon. You can read about his professional history below:
Meet our period building specialist
Lee Gallon BSc (Hons) PGDip Arch.Conserv MRICS
A chartered building surveyor of more than 6 years post-qualification experience, Lee started his career with an honours degree in building surveying from UWE in Bristol. His surveying career to-date has focused heavily on architectural conservation - with previous roles including over five years as Conservation Building Surveyor at a prominent local firm. He holds a Post Graduate Diploma in Architectural Conservation and is passionate about inspecting, studying and preserving old buildings.
Why choose Lee as your surveyor?
Competent, professional member of the Royal Institution of Chartered Surveyors
Years of experience working with old, period and listed buildings
Hours every year spent keeping up to date with the latest conservation techniques
A passionate, approachable property consultant
Bespoke reports for period buildings
Surveys come in various shapes, lengths and formats. Many, like the RICS HomeBuyer report, are based on a template which is restrictive and limited. As such, these reports should be avoided when considering an older property in favour of a bespoke inspection which allows the surveyor the time to properly investigate any serious issues found on site. The Right Surveyors in South Molton offer the following bespoke services specifically designed for older structures:
Full Building Survey (FBS)

Our most comprehensive building survey for an old property.

House Purchase Survey

A concise version of the FBS above, covering similar elements with lower levels of detail.

Major Elements Survey

Similar to the FBS above, but omitting superficial elements like decorations and joinery.

Single Fault Assessment

A focused report covering one particular issue at the period property, like a significant structural crack.